Lip Sync Battle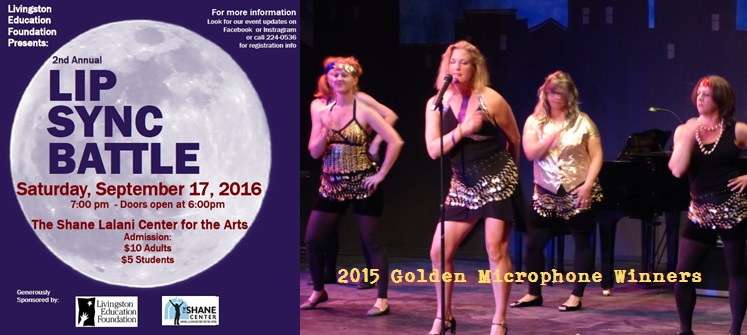 THE LIP SYNC BATTLE is a newer community event held the third Saturday of September at the Shane Lalani Center for the Arts. Originally organized as a fundraiser for the high school choir program through LEF it has become a community favorite. Ten teams prepare and perform a lip sync, drawing groups of students, teachers, and community members/ businesses, who compete for the "Golden Microphone." Audience members vote with their dollars during intermission, and then various live performances play while the votes are tallied.
Save the Date!
The 3rd Annual Lip Sync Battle
is scheduled for Saturday,
September 16, 2017.
THE ZOMBIE RUN is a community fundraising event held annually on the last Sunday of October or Sunday nearest Halloween. The run was originally started as a companion to the LEF Haunted House, but became a stand-alone event in 2015. The run draws in participants from throughout Park County and the surrounding areas. Students and parents participate as both zombies and zombie artists, as well as along the route the morning of the race. 
Save the Date!
The 5th Annual Zombie 5K Run
is scheduled for Sunday,
October 29 , 2017.
Scavenger Hunt
THE SCAVENGER HUNT is another community event held annually in the spring, usually a Saturday afternoon. Up to ten teams of five compete in a race around Livingston to acquire various items, pictures in places, or activities.
THE RULES
Your goal is to support our public schools! To do this, you must search out the listed items and complete the assigned tasks that will be given to you at Katabatic Brewing Co. to kick off this hunt. To succeed you will need to make note of the following guidelines: 
1. Locate a team of qualifying members. Qualifications include:
– Humans age 18 or older.
– Minors if accompanied by parent or guardian.
– Team members should anticipate having fun, and they must enjoy supporting school programs!
2. Teams cannot exceed 5 members.
3. Supply LEF with proper funding prior to competing – $100/team.
4. Teams may not "divide to conquer" during the event.
5. All teams must report to Katabatic by 3:45 pm on Saturday, April 22. The hunt begins at 4:00 pm.
6. All expeditions must be complete by 6:00 pm. Judging and prizes are from 6pm-7pm.
7. Each team will be given points for tasks completed. Team with the most points will be declared the winner and given the traveling trophy and 2017 bragging rights.
**Extra points will be given for teams in costume!**
8. Each team must have with them $3 in change, a device for taking digital photos, and a car. No more than $3 can be spent total in the process of completing your assignment.
9. Each team must remember the laws of the State of Montana. Don't speed and don't drink and drive!
10.  Each team must sign up by April 20, 2017.
To sign up contact any LEF Board Member, email at lef4kids@gmail.com or call 222-5266.  
Save the Date!
The 3rd Annual
Scavenger Hunt
is scheduled for Saturday,
April 22 , 2017.